Trump's high-profile sackings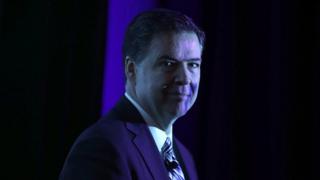 James Comey is not President Trump's first scalp.
The FBI director's dismissal is the latest in a string of high-profile - and controversial - firings by the former Apprentice host, including an acting attorney general and a short-lived national security adviser.
Serious questions have been asked about President Trump's motivations in some of those cases, and the spectre of the ongoing Russia scandal seems to never be far away.
---
James Comey, FBI director - 9 May
Mr Comey played a dramatic and controversial part in the closing stages of the election when he announced, a week before the vote, that the FBI had reopened an investigation into Hillary Clinton's private email server.
He was criticised first by Democrats for the timing and alleged indiscretion of the announcement, then by Republicans when he said a week later that no charges would be brought. But Mr Trump praised the Trump's high-profile sackingsFBI director fulsomely, saying it "took a lot of guts" to make his announcement and that he had "brought back his reputation". He blew Mr Comey a kiss at the White House.
The president had grown less appreciative of Mr Comey in recent weeks however, as the FBI director led an investigation into alleged ties between the Trump campaign and Russia.
Why was he sacked?
The Trump administration claims Mr Comey's handling of the Clinton email investigation rendered him no longer able to credibly lead the bureau.
Deputy Attorney General Rod Rosenstein penned a two-page memo criticising his conduct, which Attorney General and longtime Trump ally Jeff Sessions used as a basis to recommend to the president that Mr Comey be sacked.
But the timing has raised eyebrows. Senior Democrats alleged that he was removed in order to decapitate the FBI's Trump/Russia investigation.
Reports say Mr Trump was looking for a way to sack Mr Comey for a week before the Rosenstein memo. Senate Minority Leader Chuck Schumer called the sacking part of a "deeply troubling pattern".
---
Michael Flynn, National Security Adviser, 14 February
Technically, Michael Flynn resigned, but he was asked to do so by the president. His departure followed weeks of deepening scandal in which it emerged that he had misled White House officials, including the vice-president, over his contact with Russian ambassador Sergei Kislyak.
Mr Flynn is said to have discussed US sanctions against Russia with Mr Kislyak before Mr Trump took office.
Mr Trump was briefed on the possibility that Mr Flynn was open to blackmail, because Moscow knew he was lying, but 18 days elapsed before the president sacked him, raising questions about exactly what the president knew and when.
Why was he sacked?
It is illegal for private citizens to conduct US diplomacy, and once it was established that Mr Flynn had lied about his contact with Mr Kislyak there was no question that he had to go. The question with this sacking was, why did it take so long?
White House press secretary Sean Spicer said that president needed the time to investigate Mr Flynn and establish his guilt, but the scandal prompted fierce speculation over what the president knew of Mr Flynn's contacts with Mr Kislyak.
---
Sally Yates, acting attorney general, 31 January
The president fired Sally Yates after she questioned the legality of Mr Trump's travel ban on seven Muslim-majority countries. Ms Yates, who was appointed by Barack Obama, believed it discriminated unconstitutionally against Muslims, and ordered justice department lawyers not to enforce the president's executive order.
Within hours, she was sacked.
Why was she sacked?
A White House statement said Ms Yates had "betrayed the Department of Justice by refusing to enforce a legal order designed to protect the citizens of the United States". It also described her as "weak on borders and very weak on illegal immigration".
But it was also Ms Yates who informed White House counsel that then-National Security Adviser Michael Flynn had misled the vice president about his contact with Russian ambassador Sergey Kislyak and presented a risk of Russian blackmail as a result.
The president's sacking of an Obama-era holdover who had openly defied him was certainly less controversial than the Comey dismissal, but it drew heavy criticism from Democrats, who said Ms Yates had done her job in standing up to the travel ban.
---
Preet Bharara, New York federal prosecutor, 11 March
It is not uncommon for prosecutors appointed by the previous administration to be replaced as the White House changes hands, but the widely-respected Preet Bharara had been told specifically by the Trump administration that he would be kept on.
Mr Bharara had built a reputation as the "Sheriff of Wall Street" after a number of aggressive prosecutions of traders. At the time of his sacking, he was overseeing several high-profile cases, including an investigation into New York City Mayor Bill de Blasio's campaign finances and allegations of sexual harassment at Trump favourite Fox News.
Why was he sacked?
Mr Bharara was one of 46 prosecutors asked to resign by the Trump administration, which contended that it was part of a simple changing of the guard.
But there was speculation among Democrats and others that Mr Bahara's jurisdiction, which included Trump Tower, may have concerned the president. A few days before he was sacked, three ethics groups called on Mr Bharara in an open letter to investigate whether Trump companies in his jurisdiction had received foreign payments.
Meanwhile, a ProPublica investigation revealed that Mr Bharara was overseeing an investigation into stock trades by Mr Trump's incoming health secretary Tom Price.
Three Democratic senators wrote to attorney general Jeff Sessions asking him to investigate the Bharara sacking.
---
Paul Manafort, Trump campaign manager, 19 August
Paul Manafort, a long-time Republican political operative, was supposed to marshal some of the chaos around Mr Trump but ended up falling prey to it. He was sacked after five months with Mr Trump's campaign, three of those as campaign chair.
Why was he sacked?
The Trump campaign didn't give a reason for Mr Manafort's departure, issuing only a boilerplate statement wishing him well. But a wave of reports in the week before the announcement alleged that Mr Manafort had received secret cash payments from a pro-Russian political party for representing Russian interests in Ukraine and the US.
While Mr Manafort was running the campaign, the Republican Party changed the language in its manifesto regarding the conflict in Ukraine, removing anti-Russian sentiment, allegedly at the behest of two Trump campaign representatives.