Canada First Nations declare drugs state of emergency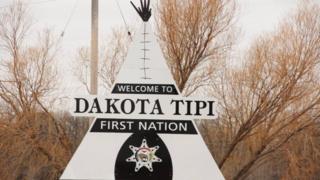 Seven Canadian indigenous tribes have declared a state of emergency due to a worsening drug crisis.
Manitoba's Dakota Ojibway Tribal Council says addiction to opioids, crack and methamphetamine is causing crime, suicide and health problems.
The problem is so bad they say 60% of babies are put on morphine after birth because of their mother's addiction.
Chiefs from seven First Nations are asking for the government's help to set up a treatment centre.
"When I see our grandmothers, who are on prescription drugs, handing them out, it is purveyed right through our communities now, from our grandmothers and grandfathers down," Chief Kenneth Chalmers, Dakota Ojibway Tribal Council chairperson, said during a press conference on Wednesday.
"We get the violence with the alcohol but this is a different thing — it is becoming ultra-violence."
Chiefs from the Birdtail Sioux, Dakota Tipi, Long Plain, Roseau River Anishinabe, Sandy Bay Ojibwaym Swan Lake, and Waywayseecappo First Nations held a press conference to raise awareness about the crisis and call on the government's support.
The chiefs say they are working with local police to keep drugs out of the community, and will exile anyone caught selling drugs from the community. They are also trying to prevent drug use through intervention and education, but say they need the government's help to treat people who are already addicted.
Although drug use has been a problem in the community before, it has worsened in the past few years, community members say, while the rest of the country also finds itself grappling with an opioid overdose epidemic.
"We are seeing more and more complicated drugs that are arising, and people are being hurt by it and people are dying," said Rick Head, acting chief of the Dakota Ojibway Police Service. "People are hooked on various types of drugs — whether it be alcohol, prescription drugs, or methamphetamine."