Mexico quake: Families cling to hope amid search for survivors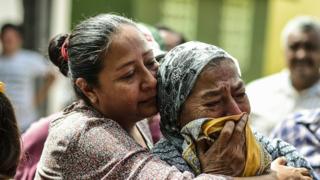 Dolores and Antonio used to talk to their son Juan every day - he usually rings them from work.
But he hasn't called them since Tuesday morning.
That morning, like every morning, Juan had gone to work as an accountant on the fourth floor of an office block in the trendy La Condesa area of Mexico City.
Then the earthquake struck.
Now Dolores and Antonio are living in the hope that he is still in his office, trapped but alive, and waiting to be rescued.
The couple have travelled from their home, an hour away from Mexico City, to keep a constant watch as rescuers pick through the rubble to search for Juan and as many as 30 others they believe could be inside.
All that is left of their son's workplace is a large mountain of concrete, the six storeys which once housed young professionals that are now stacked on top of each other, bending from the weight of the rubble above.
Twisted sheets of metal curl out from what remains of the structure. If you look closely, you can see fragments of wood which once formed office furniture, buried amongst the dusty mass.
The adjacent buildings escaped the damage and remain almost perfectly intact, as if to add insult to injury.
"We know our son is still alive," Antonio tells me, as he puts a caring arm around his wife, whose face is wet with tears.
"If I could dig him out of that myself I would," he says.
Dolores is overcome with grief and finds it hard to say much.
"My son and I were so close," she says as she leans in to give me a hug.
Officials say 70 people were in the building when the quake hit and more than 25 have been rescued alive.
Relatives of those who are still unaccounted for have set up camp opposite the building, standing behind yellow police tape.
Their blankets and sleeping bags cover a small stretch of pavement.
Some are seated on camping chairs, others stand holding rosaries as they bow their heads and pray. Two small boys are crouched on the pavement playing with their action figures.
Hanging from a tree in front of them is a large white piece of paper, bearing the names of those who have been rescued handwritten in marker alongside the names of those who have yet to return home.
As the families look on, wishing there was something they could do, dozens of people wearing hard hats in a variety of different colours - yellow, red, blue and white - swarm around the edge of the building.
They are mixed in with large numbers of Mexican police and members of the military.
A few of the rescue workers stand above them all, high on top of the rubble, picking through it and removing what look like boulders, piece by piece.
At regular intervals the rescuers raise a fist in the air, a sign that they want everyone to be silent for a few moments.
Generators are turned off and the crowd is hushed.
A mobile phone goes off a few metres away from me, its owner the recipient of angry glares.
For a few minutes at a time, one of the world's largest metropolises goes quiet as rescuers call out to those trapped in the wreckage, hoping they might hear, and that survivors buried beneath might respond.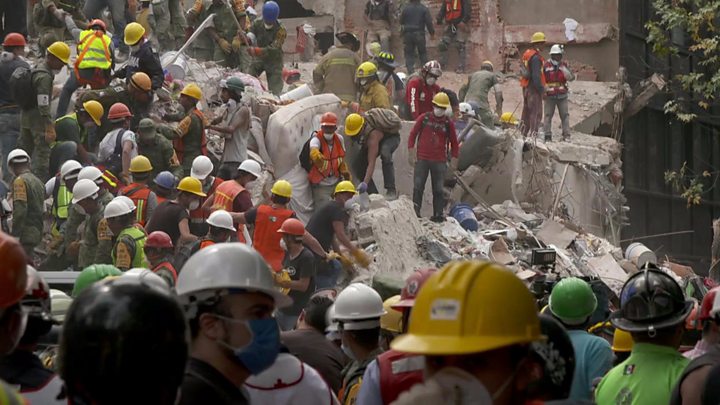 In the quietude the crowd of families, volunteers, rescuers, officials and journalists come together in a strange solidarity.
We are all here for different reasons - but we are all praying for the same outcome.
Moments later, when the generator whirrs back on, sledgehammers and pick axes rise and fall again as the sense of urgency revs up once more.
Many of those helping with the rescue efforts are volunteers, desperate to assist in whatever way they can.
"I need to do something to help the people, so I came here," says Maurice, a tall man who has arrived clutching his own shovel.
"Imagine if you were under a building and desperate, because no-one is helping you."
Others have come here to support the many survivors who've been left without shelter or supplies. Under a blue tent dozens of volunteers are handing out medical kits, bottles of water and even hot food.
Anna Cristina decided to come here after seeing a message on Facebook.
As she puts syringes with insulin into small plastic bags, she starts to cry.
"I was in my home when the quake struck," she says, grateful she and her family are safe.
"I wanted to cry before," she says, "but I couldn't in front of my children because I have to be strong."
As she passes a bag of medicines to the person next to her, in conveyor belt fashion, she demonstrates the strength I've witnessed across the city.
"We are here to help everyone - no matter what race or religion. Today, we are Mexico."
For the latest from Mexico, follow @BBCRajiniV on Twitter