James Comey: Protests disrupt speech to Howard students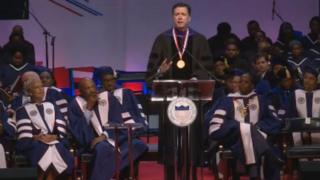 Protesters shouting "no justice, no peace" have disrupted a speech by former FBI director James Comey to university students in Washington DC.
Mr Comey was giving a convocation address at Howard University, a leading historically black college.
It took some 13 minutes before Mr Comey, fired in May as head of the FBI, could be heard by the crowd of 1,500.
From the moment he took the podium he was distracted by chants including "Get out James Comey, you're not our homie".
The BBC's Courtney Subramanian, at Howard University, says protesters told her they believe the FBI is an anti-black organisation.
Demonstrators were shouting expletives about Mr Comey as others held "Black Lives Matter" signs just outside the auditorium, she adds.
Video from the scene shows many students in the hall who wished to hear Mr Comey took up a rival chant of "Let him speak!"
"I love the enthusiasm of the young folks but I just wish they would understand what a conversation is," Mr Comey said with a strained voice as protests continued to shout over him.
"A conversation is where you speak and I listen, and then I speak and you listen."
"And at the end of a conversation, we're both smarter. I am here at Howard to try to get smarter, to try to be useful, to try to have healthy conversations," he added as some crowd members began applauding his remarks.
As the protesters left the auditorium following Mr Comey's speech, some students in the crowd cheered.
Lindsey Chapman, an 18-year-old freshman who sat near the protesters as they drowned out Mr Comey's remarks, told the BBC she disagreed with the demonstration.
"They have a right to their opinion but I disagree with how it became disrespectful very quickly," she says.
"I think James Comey should have been able to speak and say what he wanted to say and then we would have been able to give an objective opinion on whether or not it was a good idea for him to come."
Freshman Donald Val, 18, said the parts he heard "practically aligned" with the protesters' point of view.
But Mr Val, who attended one of the planning meetings for the protest before Friday's ceremony, said demonstrators had "very compelling" arguments about their grievances.
"I think standing up for what you believe in is a essential part of America but the way in which it escalated to the point in which they were using profanity and elicit language was just unsavory to say the least," he said.
A flyer was distributed to attendees at the ceremony, suggesting Mr Comey had argued racism is not a serious issue within policing.
The leaflet also accused the FBI under his leadership of spying on Black Lives Matter activists.
And it charged that Mr Comey popularised the controversial term "the Ferguson effect".
The Ferguson effect stems from the police shooting of black 18-year-old Michael Brown in Ferguson, Missouri, in August 2014.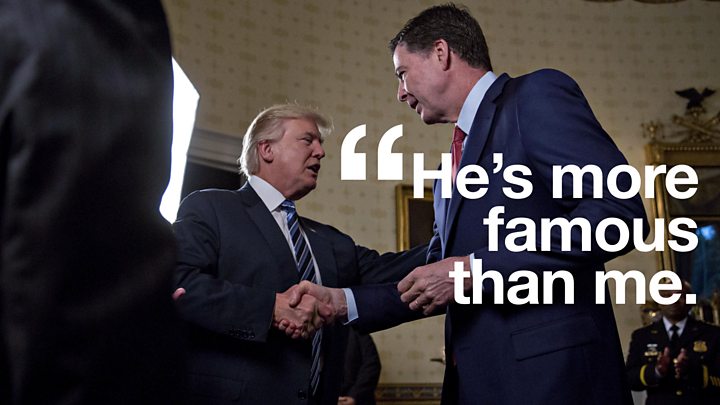 Some believe heightened scrutiny of police since that incident has left patrol officers hesitant to confront suspected wrongdoing.
In October 2015, Mr Comey said there was "a chill wind blowing through American law enforcement", which he suggested could be the Ferguson effect.
His then-superior, Attorney General Eric Holder, dismissed the idea, saying any evidence to support this theory was merely anecdotal.
US President Donald Trump fired Mr Comey from his position as FBI director in May.
The sacking sparked the appointment of a special counsel to take on the FBI's investigation into Russian attempts to influence the 2016 US presidential election.
Friday's speech was closely watched as it was one of Mr Comey's first public appearances since being ousted from the FBI.
He is scheduled to give a series of lectures at Howard throughout the 2017-2018 school year.