Canada 'knees together' judge wants to practise law again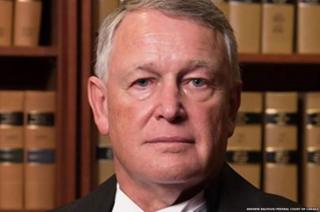 A Canadian judge who asked a sexual assault complainant why she could not "keep (her) knees together" wants to practise law again.
Former Alberta Judge Robin Camp resigned in March after a scathing Canadian Judicial Council review called for his removal.
The Law Society of Alberta is holding a reinstatement hearing on Tuesday.
Mr Camp's comments during a 2014 rape trial sparked led to an appeal, but the accused was again acquitted.
When lawyers become judges they are no longer part of the law society and cannot practise.
Since he resigned from the judiciary, Mr Camp has wished to be reinstated into the society so that he can resume his practice as a lawyer.
In the 2014 rape trial, Mr Camp asked a 19-year-old woman: "Why couldn't you just keep your knees together?"
He also said that "pain and sex sometimes go together" and referred to the complainant as "the accused", court records show.
Alberta's Minister of Justice reported his comments to the Canadian Judicial Council, which oversees the judiciary across the country.
During an inquiry into his comments and his fitness as a judge, Mr Camp apologised and said he has been educating himself about sexual assault laws and stereotypes.
"I was not the good judge I thought I was," he said during the hearing.
"I struck the wrong tone in counsel submissions. I was rude and facetious.
"I didn't realize the implication came with those words."
But the Canadian Judicial Council found that Mr Camp's actions during the trial undermined public confidence in the judiciary to the point where he should no longer serve.