Marshawn Lynch targeted by Trump for Mexico anthem protest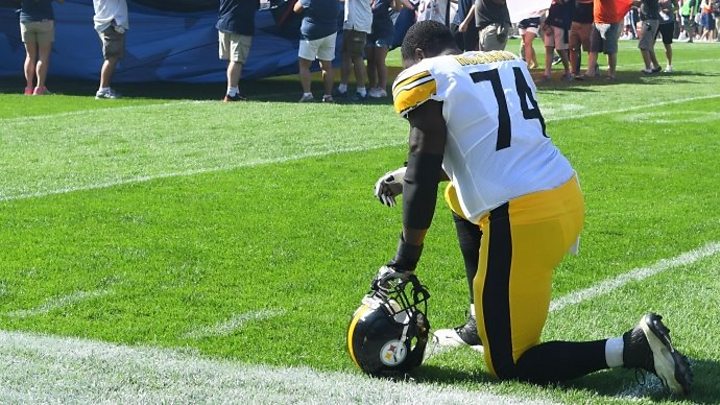 US President Donald Trump has urged the NFL to suspend a player who stood for Mexico's national anthem but protested during the Star-Spangled Banner.
Marshawn Lynch of the Oakland Raiders was photographed sitting during the US national anthem at a game in Mexico City on Sunday.
"Great disrespect!" Mr Trump tweeted, adding: "Next time NFL should suspend him for remainder of season."
Several other US footballers sat on Sunday in an ongoing league protest.
Mr Lynch's demonstration came during a game against the New England Patriots in Mexico City.
Mr Trump tweeted on Monday morning: "Marshawn Lynch of the NFL's Oakland Raiders stands for the Mexican Anthem and sits down to boos for our National Anthem. Great disrespect!"
The president also noted NFL "attendance and ratings way down".
Mr Trump has frequently criticised NFL stars who have knelt or sat during the Star-Spangled Banner, which is played before games.
The players have said the gesture is in protest against perceived racial injustice and police brutality.
This is the second time in two days that Mr Trump has criticised athletes.
On Sunday he lashed out against three college basketball players, who were released by Chinese authorities after intervention from Mr Trump.
During an NFL game last month at Wembley Stadium in London, three players from the Miami Dolphins "took the knee" during the US national anthem, but rose for God Save the Queen.
Mr Trump did not comment on their protest.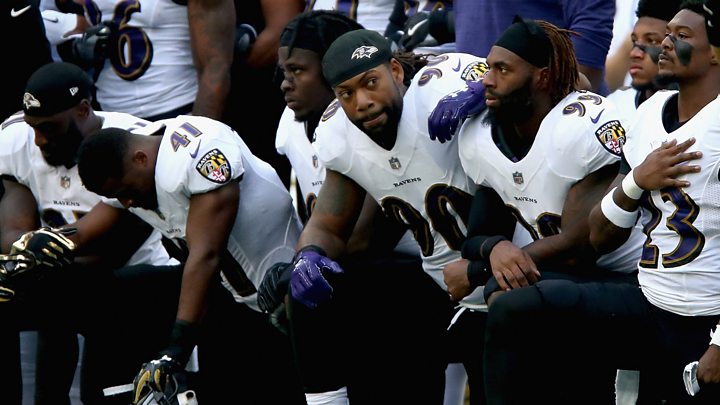 On social media, many pointed out the charity work sponsored by running back Lynch, who coined the catchphrase "Beast Mode".
His charity, Fam 1st Family Foundation, was founded in 2011 in partnership with another NFL player to "help build self-esteem and academic learning skills for our youth".
The 31-year-old is also known to frequently appear at charity fundraiser events.