Vice News: Canada's top court to hear press freedom case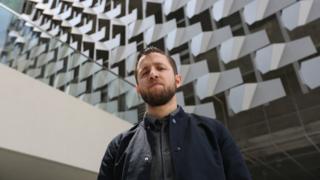 Canada's Supreme Court is to hear a case that weighs press freedom against the ability of police to investigate crimes.
Vice News and journalist Ben Makuch are fighting a court order requiring him to hand over communications with a terrorist suspect.
Farah Shirdon was charged in absentia in 2015 with six terrorism-related offences.
Police were granted a production order for texts between him and Mr Shirdon.
Mr Makuch said on Twitter that he was "very happy (and relieved)" that his case will be heard by the top court.
In March, the Ontario Court of Appeal ruled that Mr Makuch had to hand over all Kik messenger app chat logs with Mr Shirdon, a Canadian citizen, to police.
An Ontario Superior Court also upheld the production order in 2016.
The Vice News journalist wrote three articles about Mr Shirdon's involvement with the so-called Islamic State in 2014.
He has refused to hand over the materials.
His lawyer argued the ruling would have a "chilling effect" on the media, by turning journalists into police sources.
The police said they needed the information to effectively investigate serious crimes.
Mr Makuch has received the support of press freedom and civil liberties groups in Canada, who argue the protection of sources is a foundational principle of journalism.
Canadian Journalists for Free Expression have called the police production order " a simple fishing expedition".
Mr Shirdon left Canada in 2014 to join IS, and there are conflicting reports as to whether or not he was killed in Iraq.
US authorities have said they believe he died in 2015, but the US state department added Mr Shirdon to a global terrorist list in April 2017.
They describe him as "a prominent IS fighter and recruiter" who has also been involved in fundraising.