Actor Terry Crews sues Hollywood agency for sexual assault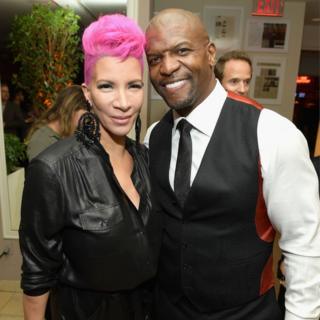 Actor Terry Crews is suing a Hollywood agency over an allegation that one of its agents groped him at 2016 party.
The star of Brooklyn Nine-Nine and The Expendables said he decided to sue after the agency did not take enough action to punish the agent in question.
He claims agent Adam Venit grabbed his genitals, but the company ignored his "bizarre behaviour".
Crews is the lone male featured in Time Magazine's Person of the Year issue honouring sex harassment accusers.
"Honored to stand among these strong, brave individuals to fight for what's right... and take our lives back", Crews wrote on Twitter on Wednesday after Time Magazine published the details of his account.
The lawsuit, which was filed in the Los Angeles County Superior Court on Monday, claims that the actor and former American football player was subjected to sexual assault, battery, sexual harassment, gender violence and intentional infliction of emotional distress during the February incident last year.
Crew alleges that Mr Venit, a William Morris Endeavor (WME) talent agent, groped him at an industry event hosted by actor Adam Sandler.
He claims he notified an agent of the assault the next day but the firm declined to take action, according to the suit.
Mr Venit allegedly received a one-month suspension from his position as head of the agency's motion picture department, but has since returned to work, according to the Crews complaint.
Mr Venit and William Morris Endeavor have not commented on the accusations.
Crews first made his accusation in October on Twitter as thousands of others also shared their experience being sexually harassed using the #MeToo hashtag.
Crews wrote that the agent in question called to apologise the next day, but "never really explained why he did what he did".
"I decided not 2 take it further becuz I didn't want 2b ostracized— par 4 the course when the predator has power n influence.," he wrote.
"I let it go. And I understand why many women who this happens to let it go. Who's going 2 believe you?"