Canada family says cremation error a 'horror story'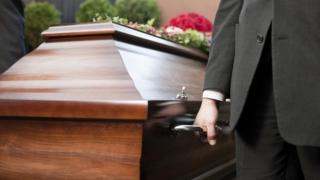 A Canadian funeral home is under investigation for cremating the wrong body and mistakenly embalming another.
They are also accused of having twice presented a grieving family with the wrong deceased loved one.
The Nova Scotia funeral home reported the errors to the provincial professional oversight board.
The family members of Sandra Bennett, whose body was mistakenly cremated, told the CBC that the mix-up was a "horror story".
Relatives told the broadcaster that prior to the open-casket visitation service on 27 December for the 65-year-old grandmother, her widower noticed the body in the coffin was not his wife's.
The corpse was reportedly dressed in her clothing.
Bennett's sister, Carolyn Dominey, told the Canadian Press that it was "like they degraded my sister's body against her wishes".
A second casket was brought out but this one also did not contain Bennett's body, family said.
Then staff explained they had cremated Bennett's body by mistake.
Another family said their deceased relative was embalmed in the mix-up.
Adam Tipert, chairman of the Nova Scotia Board of Registration of Embalmers and Funeral Directors, confirmed the Serenity Funeral Home in Berwick, about 120 km northwest of Halifax, is under investigation.
"Honestly, this is the first time we have heard of this situation occurring here in Nova Scotia," he told the BBC.
It was the funeral home itself that notified the board, which oversees the professional conduct of licensed funeral directors and embalmers in the province, as to the error.
"They were not trying to hide anything," he said. "They were trying to be honest and transparent."
Mr Tipert said the board has so far only gathered the very preliminary facts and will meet the families affected.
The board has the authority to suspend or revoke an operator's licence although Mr Tipert said it is too early in the investigation "to comment on what the outcome might be".
The funeral home did not respond to a request for comment.
Its lawyer told the CBC in a statement that the funeral home is taking this matter seriously.