Toronto man charged in deaths of two missing men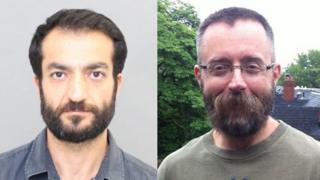 Toronto police have arrested a man suspected of killing at least two missing men after a months-long investigation into their disappearance.
Bruce McArthur, 66, has been charged with two counts of first degree murder in connection to the disappearance of Andrew Kinsman and Selim Esen.
Mr McArthur, a local landscaper, was arrested on Wednesday after police said they uncovered new evidence.
Local authorities added they believe there may be more victims.
Toronto police detective Hank Idsinga said authorities have evidence "which leads us to believe there are further victims".
"He's killed at least two people that we know of and we believe there are more victims," Mr Idsinga said.
Selim Esen, 44, went missing last April and Andrew Kinsman, 49, disappeared in June. Both frequented Toronto's Gay Village neighbourhood.
Their bodies have yet to be located. Police say they are not yet ready to release a cause of death.
"We're well aware of the difficulty of prosecuting people without recovering the bodies but in this case we believe we have strong enough evidence where we can do exactly that," the Toronto detective said.
Mr Idsinga said identifying more possible victims was "a work in progress".
"We are aware of the other missing men from the village and we're trying to identify whether they have may become victim to Mr McArthur as well," he said.
Police said they have been investigating Mr McArthur for several months but "weren't able to make that definitive link until yesterday".
They are searching five properties associated with Mr McArthur as part of the ongoing probe.
Police also confirmed they are looking at a possible link between dating apps and the alleged murders.
The missing men and the accused used dating apps that police did not identify.
Mr Idsinga said police discovered Mr Kinsman and Mr McArthur had a "sexual" relationship but did not know the link between Mr Esen and the suspect.
Last December, police tried to calm community concern - following a handful of disappearances in the village over a number of years - that there was a serial killer stalking the neighbourhood.