Siblings reunited after the crash that killed their parents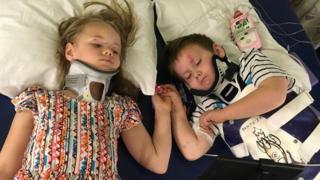 "They're grieving together. They're there for each other. They're telling each other it's going to be okay."
Angela is eight years old. Her brother Zachary is three years younger.
On 7 April Jim and Karisa Clemens were returning from church when they were killed in a car crash in San Angelo, Texas, that left Angela and Zachary orphans, along with younger siblings Wyatt and Nicholas.
A new born baby, Julieanna, also died in the crash.
"This was the first time they saw each other since the accident," said Teresa Burrell, the children's aunt and sister to Karisa. "They had been separated, but were going into physical therapy at the same time.
"We weren't meant to go in with them, but the nurse told us we had to see this - she snuck us in so we could experience the moment.
"It was the most touching thing I've ever seen."
'If kids are with him, he does better'
Teresa said the family are worried about Zachary, who is having trouble eating.
"He's in a lot of pain," she said. "But they found if the kids are with him, sitting around him, he does better. He'll take his medicine and eat better.
"When he was having a particularly bad day, my sisters decided to have a little ice cream party to see how much he could eat.
"My sister just said you should have seen Zachary, he suddenly came alive. It was a great success.
"We believe in family and we're here to support each other."
'Wyatt, I need you'
Teresa said that doctors were incredulous at Wyatt's recovery - he went from being paralysed on his left side after the accident to being able to raise his hands above his head.
"Now he's playing catch and he's able to walk," she said. "But he doesn't have great balance - he thinks he can run but he really can't!
"Wyatt is a firecracker with so much energy. But when he went to visit Angela, after sitting with her holding her hand for three minutes, he just said, 'Well, Andy I'm going back to my room now!'
"And she leaned over and looked him in the eyes and said, 'Wyatt, I need you.'
"I've never seen him sit still for five minutes. He stayed and sat with her for 25 minutes.
"They feel each other's needs. They're there for each other.
"That's a testament to my niece and her husband and how they've raised these kids to be close and to love each other."
'I'm so grateful we're still alive'
Teresa set up a fundraiser on Facebook to help with the costs that the family face. At the time of writing, over $190,000 (£140,000) has been donated.
"Initially I put it out there to pay for the funeral costs because three funerals are expensive," she said. "I was worried about the medical costs too.
"We've seen an outpouring of support from across the world. It's created positive things in a really hard situation.
"When I did the fundraiser we didn't know if they'd ever walk again. The brain damage was so severe for Angela we didn't know if she'd ever speak again.
"Then she said her first words. Yesterday she was so excited to show me she had written her name - she could remember how to spell her name.
"Angela told me, 'I'm so grateful we're still alive and we can be there together'. For an eight-year-old to say that, where a week ago we didn't know if she'd ever be able to speak again...
"The support the children give to each other. That's been so touching."
By Tom Gerken, UGC & Social News