Latin America & Caribbean
Top Stories
Clashes in Bolivia disabled protest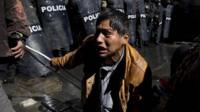 Police in Bolivia use water cannons against disabled protesters who tried to breach a roadblock to demand an increase in state benefits.
Related content
Zika may cause baby eye problems
Scientists studying the Zika outbreak in Brazil are becoming increasingly concerned the virus may cause eye damage in babies.
25 May 2016

From the section

Health
Related content
'Dinosaur crater' drill project success
Success is declared by the team drilling into the Chicxulub Crater, the deep scar made in the Earth's surface by the asteroid that hastened the end of the dinosaurs.