Latin America & Caribbean
Top Stories
Soldiers guard El Salvador buses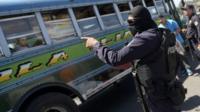 El Salvador provides security escorts for buses forced to observe a strike called by criminal gangs, after several drivers were killed.
More arrests in Chile burning case
A further five Chilean ex-army soldiers are charged over the burning of two teenagers during a 1986 protest against Gen Augusto Pinochet.
Maradona accuses ex-wife of theft
Argentine football legend Diego Maradona accuses ex-wife Claudia Villafane of stealing $9m (£6m) from his bank accounts, a claim she denies.
Features
Walk of faith
My pilgrimage across Brazil to see a tiny clay statue
'Soul torn away'
De Menezes family still reeling from London killing, 10 years on
21 July 2015

From the section

UK