Latin America & Caribbean
Top Stories
Mexico police charged with torture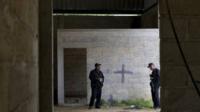 Seven Mexican police officers are charged with torturing witnesses of the Tlatlaya killings to allegedly force them to give false evidence.
Related content
Brazil rejects lowering criminal age
The lower house of Brazil's Congress rejects a bill which would have allowed young people between 16 and 18 years of age to be tried as adults.
Features
Road forward
Can ancient Inca building techniques save modern cities?
Pedal power
Cyclists get dedicated lanes in traffic-mad Sao Paulo