Latin America & Caribbean
Top Stories
Travel ban for Guatemalan president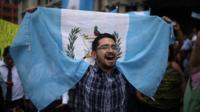 Guatemalan President Otto Perez Molina is barred from leaving the country, hours after congress stripped him of his immunity from prosecution.
Sharp rise in El Salvador violence
Gang violence in El Salvador left 907 people dead last month, a level of bloodshed unseen since the civil war of the 1980s, police say.
Features
Winning formula
Does Usain Bolt move his legs faster than other sprinters?
29 August 2015

From the section

Magazine
'Missing link'
South American fossil throws new light on evolution of lizards