Latin America & Caribbean
Top Stories
Brazil WhatsApp mayor on the run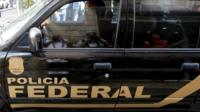 A mayor in Brazil is on the run after police accused her of taking funds from the school system and running the town remotely through WhatsApp.
Related content
Storm Erika kills 20 in Dominica
Tropical Storm Erika leaves at least 20 dead on the Caribbean island of Dominica, with the devastation setting it back 20 years, its PM says.
Related content
Chile 'torture ship' draws protest
Dozens of people protest against the "outrageous" docking of a Chilean naval vessel, dubbed the "torture ship", in east London.
29 August 2015

From the section

London
Features
Winning formula
Does Usain Bolt move his legs faster than other sprinters?
29 August 2015

From the section

Magazine
'Missing link'
South American fossil throws new light on evolution of lizards