Middle East
Top Stories
Israel struck Gaza shelters - UN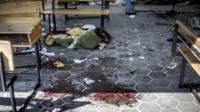 At least 44 Palestinians were killed by "Israeli actions" while sheltering at seven UN schools during last summer's war in Gaza, a UN inquiry finds.
Syrian dissident flees to Spain
Prominent Syrian dissident Louay Hussein evades a travel ban and flees to Spain before the end of his trial for "weakening national sentiment".
Israel 'kills militants' in Golan
An Israeli air strike has killed four militants armed with a bomb along the Israeli-Syrian frontier in the Golan Heights, the Israeli military says.
Features
State of terror
Peter Taylor tells the story of IS, the world's richest terror army