Middle East
Top Stories
Israeli girl stabbed to death in bedroom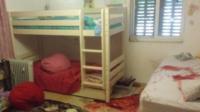 A 13-year-old Israeli girl is stabbed to death by a Palestinian inside her bedroom at a Jewish settlement in the occupied West Bank.
Related content
Fears for stranded Syrian refugees
Some 60,000 Syrian refugees stranded on the border with Jordan have received no aid since access was blocked last week, Medecins Sans Frontieres says.
Istanbul attackers 'all from ex-USSR'
The three men who carried out Tuesday's deadly attack on an Istanbul airport were all from former Soviet states, Turkish media and officials say.
30 June 2016

From the section

Europe
Related content
Features
Sweatshop risk
Half a million young Syrians missing school in Turkey
30 June 2016

From the section

Europe
Journey's end
Why a mother had to visit the place where her son died
The Newsroom

Duration 24:00

Broadcast time ‎13:06 BST - 13:30 BST

Newshour

Duration 54:00

Broadcast time ‎14:06 BST - 15:00 BST

The Newsroom

Duration 24:00

Broadcast time ‎18:06 BST - 18:30 BST