Middle East
Top Stories
Red Cross staff shot dead in Yemen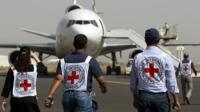 The International Committee of the Red Cross says two of its Yemeni workers have been shot dead in northern Yemen by an unidentified assailant.
Related content
Deadly bombing in Syria's Latakia
At least 10 people have been killed in a bomb attack in the Syrian city of Latakia, a stronghold of President Bashar al-Assad, state media report.
Related content
Turkish workers seized in Iraq
Eighteen Turkish construction workers have been kidnapped by gunmen in Iraq's capital Baghdad, Iraqi and Turkish officials say.
Related content
Features
Open arms
Sympathy for those fleeing Syria conflict spreads online