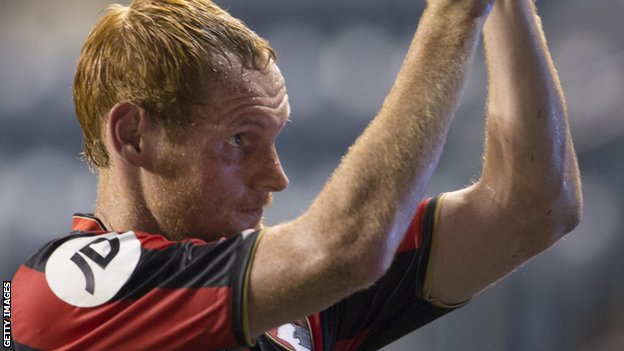 Bournemouth: Eddie Howe weighs up Shaun MacDonald replacement
Bournemouth boss Eddie Howe admits he may be forced to use the January transfer window to bring in a replacement for Shaun MacDonald.
The Cherries confirmed MacDonald ruptured ankle ligaments on Saturday and will not play again until March.
13 is the lucky number
Sat 13 Oct: Bournemouth 2 - 0 Leyton Orient
Sat 20 Oct: Bournemouth 3 - 1 Tranmere
Tue 23 Oct: Notts Co 3 - 3 Bournemouth
Sat 27 Oct: Carlisle 2 - 4 Bournemouth
Sat 03 Nov: Bournemouth 4 - 0 Dag & Red
Tue 06 Nov: Bournemouth 2 - 1 Shrewsbury
Sat 10 Nov: Doncaster 0 - 1 Bournemouth
Sat 17 Nov: Bournemouth 4 - 1 Oldham
Tue 20 Nov: Bournemouth 1 - 1 Stevenage
Sat 24 Nov: Bury 2 - 2 Bournemouth
Sat 01 Dec: Carlisle 1 - 3 Bournemouth
Sat 08 Dec: Scunthorpe 1 - 2 Bournemouth
Sat 15 Dec: Bournemouth 1 - 0 Colchester
The 24-year-old midfielder has been a key member of a Cherries side that have now gone 13 games unbeaten.
"I don't think we've got a Shaun MacDonald-type player like-for-like we can bring in," Howe told BBC Solent.
MacDonald has played every game during Bournemouth's 13-game unbeaten run but was replaced in the first half of Saturday's 1-0 win against Colchester.
And Howe admits his absence will be a huge loss for the Cherries and may mean there is a new arrival at the Goldsands Stadium in January.
"It might mean we have to be a little bit more flexible in the way we set up," he said.
"It may mean we have to be creative and although we do have players who can play a similar role, Shaun was unique in terms of his qualities.
"But whether we bring one in from within, or whether we tweak our system, or whether we look to bring a loan player in January, all options are available to us at this moment."