Irish Football
Northern Ireland legends David Healy and John O'Neill on the crunch clash with Greece and the impact of a Belfast victory.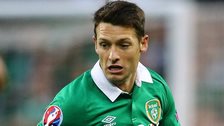 Hoolahan and Coleman injury concerns
The Republic of Ireland await updates on Wes Hoolahan and Seamus Coleman before the Euro qualifier with Germany.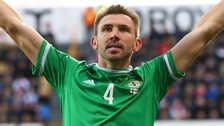 McAuley set to be fit to face Greece
NI defender Gareth McAuley should be fit for Thursday's Euro 2016 tie with Greece but Rory McArdle is called into squad.
Irish League Show
Joel Taggart and Chris Morgan discuss the big weekend talking points including contenders for goal of the season in the six-goal thrillers at Solitude and Ballymena Showgrounds.
Latest Football
Previous Results
Sat 3 Oct 2015

-

Irish Premiership
Ballymena United

2 - 4

Crusaders FC

FT

Carrick Rangers

0 - 1

Portadown

FT

Cliftonville

3 - 3

Linfield

FT

Coleraine

2 - 0

Warrenpoint Town

FT

Glenavon

3 - 1

Dungannon Swifts

FT

Glentoran

0 - 2

Ballinamallard United

FT
Previous Results
Sat 26 Sep 2015

-

Irish Premiership
Ballinamallard United

0 - 2

Cliftonville

FT

Crusaders FC

5 - 0

Carrick Rangers

FT

Dungannon Swifts

2 - 4

Glentoran

FT

Linfield

4 - 3

Glenavon

FT

Portadown

1 - 2

Coleraine

FT

Warrenpoint Town

1 - 2

Ballymena United

FT
Upcoming Fixtures
Wed 7 Oct 2015 - Irish Premiership
Ballinamallard United v Glenavon 20:00
Upcoming Fixtures
Sat 10 Oct 2015 - Irish Premiership
Carrick Rangers v Coleraine 15:00
Crusaders FC v Warrenpoint Town 15:00
Dungannon Swifts v Cliftonville 15:00
Linfield v Glentoran 15:00
Portadown v Ballymena United 15:00
Upcoming Fixtures
Sat 17 Oct 2015 - Irish Premiership
Ballinamallard United v Crusaders FC 15:00
Cliftonville v Portadown 15:00
Coleraine v Dungannon Swifts 15:00
Glenavon v Ballymena United 15:00
Glentoran v Carrick Rangers 15:00
Warrenpoint Town v Linfield 15:00
League Table
Irish Premiership summary table; it charts each team by position, team name, games played, total goal difference and points

| Position | Team | Played | Goal Difference | Points |
| --- | --- | --- | --- | --- |
| No movement 1 | Linfield | 10 | 19 | 25 |
| No movement 2 | Crusaders FC | 10 | 20 | 23 |
| No movement 3 | Cliftonville | 10 | 4 | 20 |
| No movement 4 | Coleraine | 10 | 1 | 19 |
| No movement 5 | Glenavon | 10 | 11 | 15 |
| No movement 6 | Portadown | 10 | -2 | 14 |
| No movement 7 | Glentoran | 10 | -2 | 12 |
| No movement 8 | Ballymena United | 10 | -8 | 11 |
| No movement 9 | Carrick Rangers | 10 | -8 | 9 |
| No movement 10 | Ballinamallard United | 10 | -7 | 8 |
| No movement 11 | Dungannon Swifts | 10 | -12 | 8 |
| No movement 12 | Warrenpoint Town | 10 | -16 | 4 |
Football on BBC Northern Ireland