Irish Football
Oran Kearney is confident Coleraine's superb run can continue under the lights at Ballinamallard on Friday night.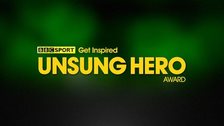 Watch video
Coach Lindsay named NI Unsung Hero
St James Swifts football coach Damien Lindsay wins the NI BBC Get Inspired Unsung Hero award for 2015.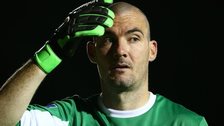 Keeper Doherty signs new Derry deal
New Derry City boss Kenny Shiels gets a boost as experienced goalkeeper Gerard Doherty commits to another two years.
Irish League Show
Joel Taggart and Chris Morgan on the latest Irish Premiership action including Linfield's 3-2 defeat at Glenavon.
Latest Football
Previous Results
Sat 21 Nov 2015

-

Irish Premiership
Ballymena United

1 - 1

Portadown

FT

Cliftonville

3 - 1

Ballinamallard United

FT

Coleraine

2 - 1

Carrick Rangers

FT

Glenavon

3 - 2

Linfield

FT

Glentoran

1 - 1

Dungannon Swifts

FT

Warrenpoint Town

1 - 3

Crusaders FC

FT
Previous Results
Sat 14 Nov 2015

-

Irish Premiership
Ballinamallard United

0 - 1

Ballymena United

FT

Crusaders FC

3 - 0

Glentoran

FT

Dungannon Swifts

1 - 2

Glenavon

FT

Linfield

1 - 2

Cliftonville

FT

Portadown

3 - 2

Carrick Rangers

FT

Warrenpoint Town

0 - 4

Coleraine

FT
Ballinamallard United v Coleraine 20:00
Upcoming Fixtures
Sat 28 Nov 2015 - Irish Premiership
Carrick Rangers v Cliftonville 15:00
Crusaders FC v Ballymena United 15:00
Dungannon Swifts v Warrenpoint Town 15:00
Glentoran v Glenavon 15:00
Portadown v Linfield 15:00
Upcoming Fixtures
Fri 4 Dec 2015 - Irish Premiership
Glenavon v Carrick Rangers 19:45
Upcoming Fixtures
Sat 5 Dec 2015 - Irish Premiership
Ballinamallard United v Glentoran 15:00
Cliftonville v Ballymena United 15:00
Dungannon Swifts v Crusaders FC 15:00
Linfield v Coleraine 15:00
Warrenpoint Town v Portadown 15:00
Upcoming Fixtures
Sat 12 Dec 2015 - Irish Premiership
Ballymena United v Warrenpoint Town 15:00
League Table
Irish Premiership summary table; it charts each team by position, team name, games played, total goal difference and points

| Position | Team | Played | Goal Difference | Points |
| --- | --- | --- | --- | --- |
| No movement 1 | Crusaders FC | 17 | 30 | 42 |
| No movement 2 | Cliftonville | 17 | 12 | 37 |
| No movement 3 | Coleraine | 17 | 12 | 36 |
| No movement 4 | Linfield | 17 | 20 | 33 |
| No movement 5 | Glenavon | 17 | 19 | 31 |
| No movement 6 | Glentoran | 17 | -1 | 24 |
| No movement 7 | Portadown | 17 | -12 | 21 |
| No movement 8 | Ballymena United | 17 | -10 | 19 |
| No movement 9 | Ballinamallard United | 17 | -9 | 15 |
| No movement 10 | Carrick Rangers | 16 | -13 | 11 |
| No movement 11 | Dungannon Swifts | 16 | -17 | 9 |
| No movement 12 | Warrenpoint Town | 17 | -31 | 4 |
Football on BBC Northern Ireland