Women's Football
Manchester City Women sign USA Under-23 midfielder Daphne Corboz.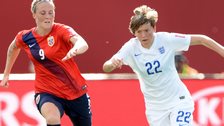 Chelsea bid for 'mini-Messi' Kirby
Chelsea, Manchester City and Arsenal are all interested in signing Reading and England forward Fran Kirby.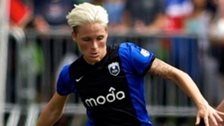 World Cup final inspires Fishlock
Watching the Women's World Cup final has inspired Seattle Reign's Jess Fishlock to reach a major tournament with Wales.
What's happening where and when
All the latest on women's football
Latest Football
Previous Results
Sun 10 May 2015

-

Women's Super League
Previous Results
Sat 9 May 2015

-

Women's Super League
Previous Results
Thu 30 Apr 2015

-

Women's Super League
Previous Results
Wed 29 Apr 2015

-

Women's Super League
Previous Results
Sun 26 Apr 2015

-

Women's Super League
Previous Results
Sat 25 Apr 2015

-

Women's Super League
Previous Results
Sun 19 Apr 2015

-

Women's Super League
Upcoming Fixtures
Sun 12 Jul 2015 - Women's Super League
Chelsea Ladies v Bristol Academy Women 14:00
Manchester City Women v Birmingham City Ladies 14:00
Sunderland Ladies v Notts County Ladies 14:00
Arsenal Ladies v Liverpool Ladies 18:00
Upcoming Fixtures
Sat 18 Jul 2015 - Women's Super League
Liverpool Ladies v Notts County Ladies 17:30
Bristol Academy Women v Manchester City Women 18:30
Sunderland Ladies v Chelsea Ladies 18:30
Upcoming Fixtures
Sun 19 Jul 2015 - Women's Super League
Birmingham City Ladies v Arsenal Ladies 18:45
Upcoming Fixtures
Sat 25 Jul 2015 - Women's Super League
Bristol Academy Women v Sunderland Ladies 18:30
Upcoming Fixtures
Sun 26 Jul 2015 - Women's Super League
Arsenal Ladies v Notts County Ladies 14:00
Birmingham City Ladies v Liverpool Ladies 14:00
Chelsea Ladies v Manchester City Women 14:00
League Table
Women's Super League summary table; it charts each team by position, team name, games played, total goal difference and points

| Position | Team | Played | Goal Difference | Points |
| --- | --- | --- | --- | --- |
| No movement 1 | Chelsea Ladies | 6 | 7 | 14 |
| No movement 2 | Arsenal Ladies | 6 | 6 | 12 |
| No movement 3 | Notts County Ladies | 6 | 5 | 11 |
| No movement 4 | Sunderland Ladies | 6 | -1 | 9 |
| No movement 5 | Liverpool Ladies | 5 | -1 | 6 |
| No movement 6 | Manchester City Women | 5 | -1 | 5 |
| No movement 7 | Birmingham City Ladies | 6 | -5 | 3 |
| No movement 8 | Bristol Academy Women | 6 | -10 | 2 |
Women's World Cup
Carli Lloyd scores a sensational 13-minute hat-trick as USA win World Cup for the third time