Women's Football
Northern Ireland's women suffer a heavy 8-1 defeat by Group Six leaders Switzerland in Friday's Euro 2017 qualifier.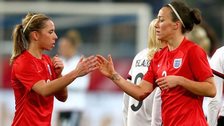 'Germany draw beats World Cup win'
Steph Houghton says England's display in their 0-0 draw with Germany beats the win over the same side at the World Cup.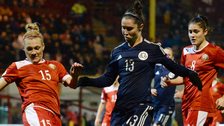 Scots look for energetic performance
Coach Anna Signeul is confident Scotland will be much fresher against Macedonia on Sunday than they were in Skopje.
Latest Football
Previous Results
Sun 4 Oct 2015

-

Women's Super League 1
Previous Results
Sun 27 Sep 2015

-

Women's Super League 1
Previous Results
Sat 26 Sep 2015

-

Women's Super League 1
Previous Results
Thu 10 Sep 2015

-

Women's Super League 1
Previous Results
Sun 6 Sep 2015

-

Women's Super League 1
Previous Results
Sat 5 Sep 2015

-

Women's Super League 1
League Table
Women's Super League 1 summary table; it charts each team by position, team name, games played, total goal difference and points

| Position | Team | Played | Goal Difference | Points |
| --- | --- | --- | --- | --- |
| No movement 1 | Chelsea Ladies | 14 | 20 | 32 |
| No movement 2 | Manchester City Women | 14 | 14 | 30 |
| No movement 3 | Arsenal Ladies | 14 | 8 | 27 |
| No movement 4 | Sunderland Ladies | 14 | 0 | 20 |
| No movement 5 | Notts County Ladies | 14 | 0 | 15 |
| No movement 6 | Birmingham City Ladies | 14 | -7 | 13 |
| No movement 7 | Liverpool Ladies | 14 | -9 | 13 |
| No movement 8 | Bristol Academy Women | 14 | -26 | 8 |