Women's Football
Who will win this season's Women's Super League One title? BBC Sport takes a look at the main contenders.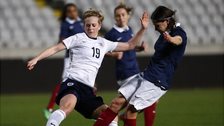 Striker Dowie eyes England recall
In-form Liverpool Ladies striker Natasha Dowie says she would "love" to be recalled to the England squad.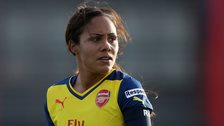 Arsenal injuries frustrating - Scott
Arsenal Ladies captain Alex Scott says they have been frustrated by injuries to a number of their first-team players.
What's happening where and when
All the latest on women's football
Latest Football
Previous Results
Sun 23 Aug 2015

-

Women's Super League
Previous Results
Sat 22 Aug 2015

-

Women's Super League
Previous Results
Sun 9 Aug 2015

-

Women's Super League
Previous Results
Sat 8 Aug 2015

-

Women's Super League
Previous Results
Wed 5 Aug 2015

-

Women's Super League
Previous Results
Sun 26 Jul 2015

-

Women's Super League
Previous Results
Sat 25 Jul 2015

-

Women's Super League
Upcoming Fixtures
Sat 5 Sep 2015 - Women's Super League
Liverpool Ladies v Arsenal Ladies 17:30
Bristol Academy Women v Birmingham City Ladies 18:30
Upcoming Fixtures
Sun 6 Sep 2015 - Women's Super League
Chelsea Ladies v Notts County Ladies 14:00
Manchester City Women v Sunderland Ladies 18:00
Upcoming Fixtures
Thu 10 Sep 2015 - Women's Super League
Manchester City Women v Liverpool Ladies 14:00
Upcoming Fixtures
Sat 26 Sep 2015 - Women's Super League
Liverpool Ladies v Chelsea Ladies 17:30
Sunderland Ladies v Arsenal Ladies 18:30
Upcoming Fixtures
Sun 27 Sep 2015 - Women's Super League
Manchester City Women v Bristol Academy Women 14:00
Notts County Ladies v Birmingham City Ladies 17:00
Upcoming Fixtures
Sun 4 Oct 2015 - Women's Super League
Arsenal Ladies v Birmingham City Ladies 14:00
Bristol Academy Women v Liverpool Ladies 14:00
Chelsea Ladies v Sunderland Ladies 14:00
League Table
Women's Super League summary table; it charts each team by position, team name, games played, total goal difference and points

| Position | Team | Played | Goal Difference | Points |
| --- | --- | --- | --- | --- |
| No movement 1 | Chelsea Ladies | 11 | 11 | 23 |
| No movement 2 | Sunderland Ladies | 11 | 7 | 20 |
| No movement 3 | Manchester City Women | 10 | 5 | 18 |
| No movement 4 | Arsenal Ladies | 11 | 3 | 18 |
| No movement 5 | Notts County Ladies | 11 | 3 | 15 |
| No movement 6 | Liverpool Ladies | 10 | 1 | 13 |
| No movement 7 | Birmingham City Ladies | 11 | -10 | 7 |
| No movement 8 | Bristol Academy Women | 11 | -20 | 5 |
Women's World Cup
Carli Lloyd scores a sensational 13-minute hat-trick as USA win World Cup for the third time