Beijing has been chosen to host the 2022 Winter Olympics and Paralympics, beating the bid of Kazakhstan city Almaty.
Rio to hire 85,000 security staff
Rio 2016 will have 85,000 security staff while the IOC defends the water quality at sailing and open-water swimming venues.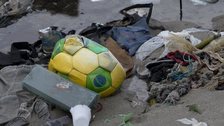 Rio 2016 facing pollution challenge
Organisers of the 2016 Rio Olympics are facing a serious challenge to clean polluted waters for sailing and windsurfing events.
Around the web
Updated: 1 August 2015 10:38
Updated: 1 August 2015 10:38
Updated: 26 June 2013 17:45