Irish Rugby
Ireland's 2014 player of the year Andrew Trimble is believed to have missed out on selection for the World Cup.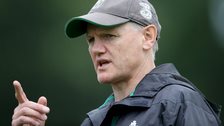 Schmidt faces tight Ireland calls
Joe Schmidt says picking his Ireland World Cup squad will involve the "most difficult" decisions of his coaching career.
Schmidt positive about Earls fitness
Ireland coach Joe Schmidt says that the initial news of Keith Earls is positive after he was carried off against Wales.
Photo Galleries
Around the Web
Updated: 1 September 2015 06:59
What is your favourite Ireland try?