BBC Sport - Clare Balding Show: Can Clare beat Martina Navratilova?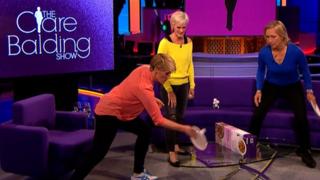 Balding v Navratilova in cereal tennis battle
Clare Balding takes on 18-time grand slam champion Martina Navratilova at cereal box tennis, with Judy Murray officiating.
Watch the full interview with Navratilova, and Judy Murray on the Clare Balding Show, Friday 8 May, 22:00 BST on BBC Two and the BBC Sport website.