Brock Lesnar: UFC star flagged for possible failed drugs test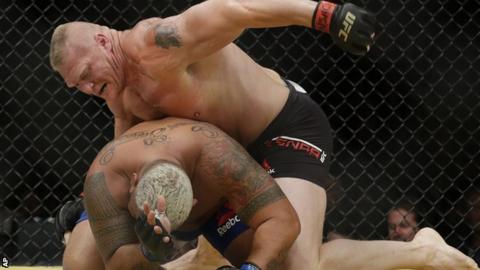 WWE superstar Brock Lesnar is being investigated by the United States Anti-Doping Agency (Usada) over a potential failed drug test, according to the UFC.
The possible violation was detected in an out of competition test on 28 June - before Lesnar's appearance at UFC 200.
Lesnar, 39, beat Mark Hunt in a heavyweight fight at the July 9 event.
Usada, the UFC and Lesnar declined to specify the substance in question, but Lesnar told The Associated Press: "We will get to the bottom of this."
A UFC statement added: "Usada will handle the results management and appropriate adjudication of this case.
"It is important to note that, under the UFC anti-doping policy, there is a full, fair legal review process that is afforded to all athletes before any sanctions are imposed."
Lesnar, who is scheduled to return to WWE in August, beat Hunt in his first UFC fight since 2011 and made a record $2.5m (£1.9m) for the bout.