Conor McGregor: Irishman beats Nate Diaz in UFC 202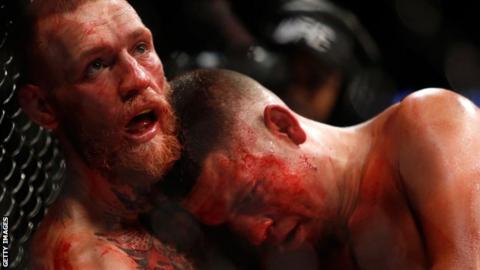 Conor McGregor beat American Nate Diaz by majority decision to avenge his UFC 196 defeat and set up the prospect of a third fight between the pair.
The Irishman, 28, was beaten by Diaz's second-round rear-naked choke in their welterweight bout in March.
This time, McGregor won their UFC 202 contest on points, with judges scoring the five-round battle 48-47 47-47 48-47 in the featherweight champion's favour.
"Surprise, surprise! The king is back!" he said after the Las Vegas bout.
Diaz, whose face was left a bloody mess by McGregor's punches, indicated he would like to take on McGregor again.
If it happens, McGregor said it must be at the lower weight of 155lb.
"If you want this trilogy, it's on my terms," he said.
"I came up to 170, now you'll come back to 155 and we'll finish what we've started. I knew what I had to do this time around and I did it."
An early knockdown for McGregor in round one caused the crowd to erupt as it appeared that the fast-finishing Irishman of old had returned.
Diaz was downed twice in round two but McGregor stepped back each time and allowed the American to get back to his feet, knowing that his ground skills were no match for his opponent's.
Diaz landed two telling strikes of his own, forcing McGregor back against the cage towards the end of the round and grabbing the momentum.
Diaz then came close to finishing the fight in the third but McGregor somehow stayed on his feet despite a series of heavy blows.
With fatigue setting in, both fighters struggled in the final two rounds.
Diaz, 31, managed to take McGregor down in the final seconds of the fifth but the Irishman survived to claim victory.
In Saturday's co-main event, top light heavyweight contender Anthony Johnson knocked out Glover Teixeira with a right uppercut to put himself into contention for a title fight against champion Daniel Cormier.