Conor McGregor: UFC champion apologises for Dublin behaviour but blames referee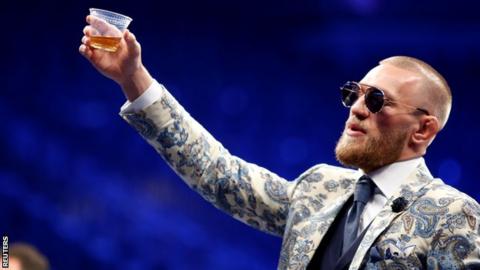 Two-weight UFC champion Conor McGregor has apologised for pushing a referee during an MMA event in Dublin - but blamed him for poor officiating.
McGregor scaled the fencing in order to celebrate with Charlie Ward after his win over John Redmond at Bellator 187.
Referee Marc Goddard separated the celebrating pair and was then pushed by McGregor as he tended to Redmond.
"Goddard made a horrendous decision in trying to pick an unconscious fighter up off the floor," said the Irishman.
The footage of the fight shows McGregor rushing over to celebrate with Ward, before two officials, including Goddard, try to lift the victor off his friend before then separating them.
McGregor then moves over to the other side of the cage and pushes Goddard as he was attending to Redmond, who was kneeling and appeared to be conscious.
In his apology posed online, McGregor wrote: "The referee Marc Godard was making a horrendous decision in trying to pick an unconscious fighter up off the floor and force the fight to continue into the second round. Even against the wishes of the said fighter's coach. The fight was over.
"After witnessing my fighter in a fight where the worst happened and the opponent passed away from his injuries on the night [Joao Carvalho in April 2016], I thought the worst was about to happen again, and I lost it and overreacted. I am sorry to everyone."
BBC Sport has contacted fight organisers Bellator for a response to McGregor's comments.
This content will not work on your device, please check Javascript and cookies are enabled or update your browser
McGregor, who was beaten by Floyd Mayweather in a boxing match in August, has not fought in the UFC since knocking out Eddie Alvarez in November last year.