BBC Sport - Andrew Cotton: Surfer who broke back on 60-foot wave vows to return to the water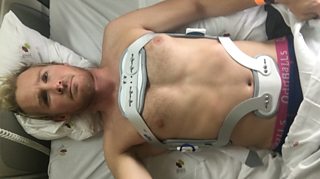 'I'll be back' vows broken-back surfer
Devon surfer Andrew Cotton has vowed to return to the water despite breaking his back trying to ride 'the perfect wave' .
The 38-year-old from Braunton was wiped out by a 60-foot wave in Portugal in November.
"I'll be back surfing big waves before you know it," he told BBC South West.