BBC Sport - NFL Draft 2016: Jared Goff to Rams & Ezekiel Elliot to Cowboys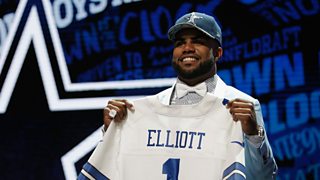 Who went where on NFL Draft day one?
BBC Sport rounds up day one of the 2016 NFL Draft in under three minutes - including which teams snared highly-rated Jared Goff and Ezekiel Elliott.
WATCH MORE: How does the NFL Draft work?
Explore the BBC