Damien Wilson: Dallas Cowboys linebacker sidelined by paintball injury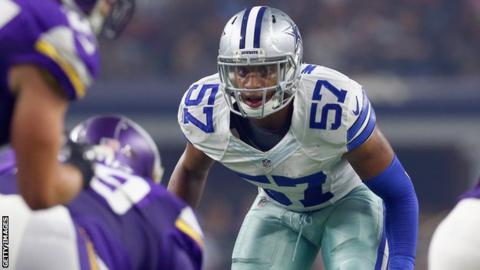 Dallas Cowboys linebacker Damien Wilson will miss the start of pre-season after being hit in the eye by a paintball.
The 23-year-old is expected to be sidelined for the first 10 days of his NFL team's training camp.
Wilson says he took his protective helmet off after being eliminated from a paintball game and was accidentally struck in the eye by a stray missile.
"Damien had a really good spring for us, so it's disappointing," Cowboys head coach Jason Garrett said.
Dallas open their NFL season against the New York Giants on 11 September.
"It is disappointing," Wilson said. "I'm going to stay in shape so when I do come back I can pick up where I left off."