BBC Sport - NFL players react to 2017's funniest UK viral stories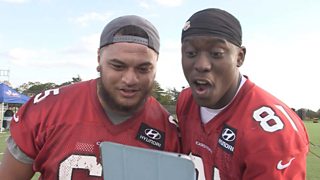 NFL players react to 2017's funniest UK viral stories
NFL players visiting London this season react to some of the standout viral moments from the United Kingdom in 2017 - from the BBC News Skype kids to Roadman Shaq.
Watch The NFL Show, Saturday 28 October, 23:55 BST on BBC One, and live coverage of Minnesota Vikings v Cleveland Browns from Twickenham live on Sunday 29 October, 13:00 GMT on BBC Two.
Available to UK users only.