Ex-rugby star Thom Evans close to making dream athletics start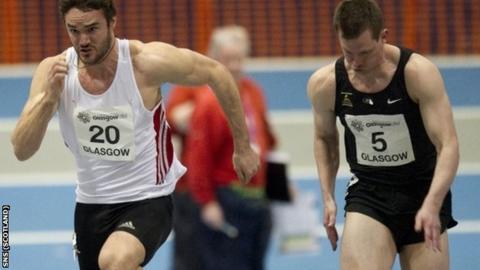 Former Scotland rugby international Thom Evans has narrowly missed out on a medal at athletics' Scottish National Senior Indoor Championships.
The 26-year-old was forced to give up rugby after suffering a serious neck two years ago against Wales.
And he was delighted to finish fourth in the 60m at Glasgow's Kelvin Hall in his first major athletics event.
"That is pretty much what my aims were coming here, so I am very pleased," said the former winger.
Northern Ireland's Dean Adams won the title in 6.95 seconds, with Scotland's Chris Baillie picking up a bronze as he edged out Evans.
Baillie, a Commonwealth Games silver medallist in 2006, had run in Birmingham the previous day but still also managed to win the Scottish 60m hurdles crown.
Evans, who at one stage wondered whether he would walk again, qualified for the final as one of three fastest losers over three heats, running 7.23 behind Adams in the opening race after arriving in Glasgow with a PB of 7.22.
After two athletes dropped out of the six-man final - with two disqualifications at one time - Evans set a personal best of 7.20 in only his third outing as a sprinter.
"I was pretty nervous before the heat because I didn't want to false start on my first competitive appearance," said Evans, who was watched from the stand by actress girlfriend Kelly Brook and his Scotland winger brother, Max.
"But I did an awful lot better in the final and it was so frustrating that someone else had false-started and we had to go back to the line.
"I would love to know what I would have run otherwise.
"The bottom line is I've set a PB in the re-run and reached a national final in only my third outing on the track after two open graded meetings in London in January.
"It was good to be here and get a real feel for athletics. Obviously it is a massive difference from the world of rugby, where it is a team sport and you can 'play your way into a game' that lasts 80 minutes.
"So it is all new to me, but I enjoyed it. I want to compete in Scotland during the spring and the summer and that will be over 200 metres and 400 metres.
"I am ready to start the training for that with the help of my coach, Margot Wells, and her experience and guidance is great."