Russia: Yulia Chermoshanskaya ban means 2008 4x100m relay gold is stripped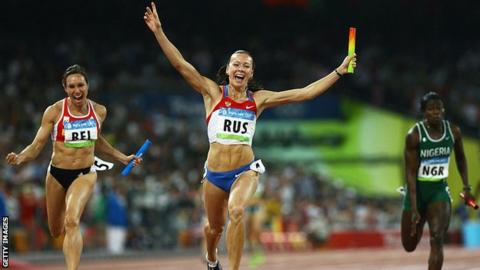 Russia have been stripped of the women's 4x100m relay gold medal they won at the 2008 Olympic Games.
It comes after Yulia Chermoshanskaya tested positive for a banned substance when her samples from Beijing were reanalysed.
The International Olympic Committee (IOC) retested 454 selected doping samples from the Games in China.
It means Belgium move into the gold medal spot, Nigeria take silver and Brazil bronze.
Chermoshanskaya, 30, is also retrospectively banned from the women's 200m, where she finished eighth.