Beth Potter: Double Team Scotland selection for runner and triathlete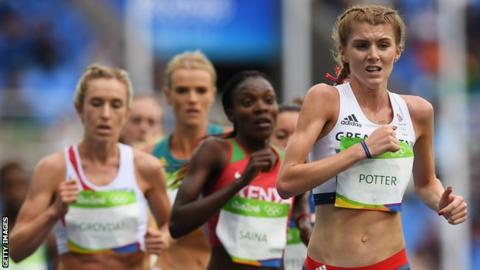 Runner Beth Potter has made Team Scotland history by being selected in two different sports at the same Commonwealth Games.
A year ago, the 26-year-old joined the triathlon training squad of Olympic gold and silver medallists Alistair and Jonathan Brownlee in Leeds.
And Potter, a talented swimmer in her youth, has been selected for the Gold Coast Games in triathlon and athletics.
"It was a very ambitious goal when I moved to Leeds," she told BBC Scotland.
"I hadn't done a triathlon and I said that I wanted to qualify for Gold Coast. Quite a few people thought I was a bit mad.
"It was touch and go and it was difficult to find a race. In triathlon, it's difficult to get into races if you don't have previous points and obviously being a newcomer to the sport, I didn't have those points.
"But I got into a race at the end of season and secured qualification with a first, a podium place."
Potter competed in the 5,000m and 10,000m at the Glasgow 2014 Commonwealth Games and then the 10,000m at the 2016 Olympics in Rio.
In the past year she has re-embraced swimming and added cycling to her repertoire in a bid to make it to Australia's Gold Coast as a triathlete, with the Games taking place from 4-15 April.
"I used to swim with Milngavie and Bearsden and it was through swimming that I got into running and then, obviously, the running started to take over; got more successful at that and I sort of put swimming on the back burner," Potter explained.
"I hadn't really done any proper swimming for about eight years, just the occasional two-to-three weeks when I'd been injured.
"I started riding my bike on 10 January last year so it's been tough. It was just difficult getting used to some technical things on the bike and just little things like clipping in and out and riding in a group.
"Being here in Leeds and training with the squad it's really brought my confidence along this year."