Olivier Gers: IAAF chief executive resigns over commercial strategy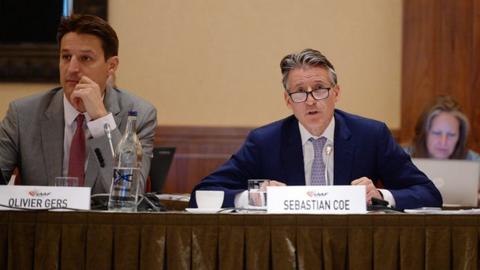 The chief executive of athletics' world governing body has resigned after 17 months in the job because of a disagreement over commercial strategy.
Olivier Gers joined the International Association of Athletics Federations (IAAF) in October 2016.
His remit had been to increase the sport's media coverage, audiences and revenue following the 2016 Olympics.
The Frenchman said: "I have resigned so the IAAF can pursue a different commercial strategy for the sport."
He added: "While I am sorry to be leaving, the pre-existing commercial framework makes it difficult for me to apply my talents and fully leverage the assets of the IAAF in the way I would like."
Gers, who will continue in his role for three more months before leaving, has more than 20 years of commercial, marketing and media experience.
Sebastian Coe, the IAAF president, thanked Gers for "securing broadcast and digital rights to expand audiences for athletics globally".