BBC Sport - How deaf dancer Chris Fonseca feels the beat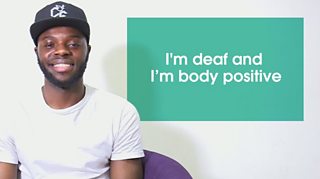 How deaf dancer Chris feels the beat
Chris Fonseca is a dancer, a dance teacher, and a choreographer - and he's profoundly deaf.
He's been featured in recent adverts for a well known drinks brand - and his inspiring and perhaps surprising story has gone viral.
Chris became deaf as a child after suffering from meningitis. He is profoundly deaf in both ears and wears a cochlear implant.
He fell in love with dancing at a young age, and now runs workshops in South London teaching both deaf and hearing people to dance, focusing on lyrical hip hop. He's also a freelance dancer, appearing in music videos, adverts and more.
He dances by feeling the beat through vibrations in the floor, and interprets and then incorporates the lyrics into his dance moves.
Want to get into dance, but not sure how to start? Check out Get Inspired's handy guide.