BBC Sport - The basketball players who wear the hijab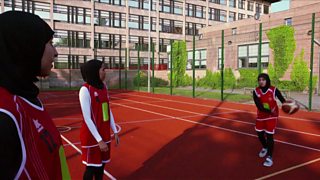 The basketball players who wear the hijab
Ezdihar is body positive, she loves basketball - and she wears the hijab.
Originally a netball player, she caught the basketball bug at 18, and became president of her university's team.
After starting local team the Bradford Cobras, she inspired other Muslim women to sign up. After a Bosnian woman started a petition to overturn a ruling by the International Basketball Association to ban the wearing of hijabs during play, the Cobras went to Turkey to play a friendly game - and won.
Despite basketball teams across the UK struggling with awareness and funding cuts, Ezdihar is playing in tournaments in Manchester this year and now wants to play internationally.
BodyPositive went to a training session to film Ezdihar play - on a hot summer's day during Ramadan, when she and the other players were fasting. Now that's dedication!
Has Ezdihar inspired you too? Find out how to get into basketball with Get Inspired.