WBO champion Nathan Cleverly 'a shining light' - Nicky Piper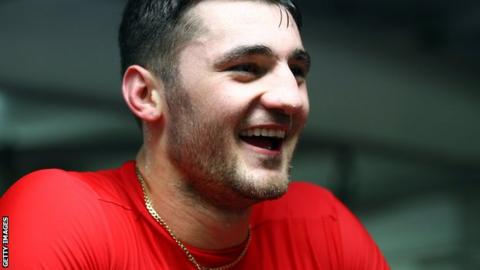 Former Commonwealth light heavyweight champion Nicky Piper has said Nathan Cleverly can restore the pride of British boxing.
British boxing has been rocked following Dereck Chisora and David Haye's brawl in Munich.
Cleverly defends his WBO light-heavyweight title against Tommy Karpency on Saturday.
"Nathan's a real gentleman and a shining light in British boxing at the moment," said Piper.
"Nathan doesn't mind getting into a nose to nose at press conferences but he wouldn't get involved in this sort of thing. He's not that silly.
"Nathan [has] a brilliant image. [He's] a good looking guy with tremendous intelligence. He's always a gentleman and speaks very well."
Haye and Chisora clashed after Chisora's defeat by defending WBC heavyweight champion Vitali Klitschko.
Piper said the clash during the post-fight press conference was "shocking" but believes it could have been avoided.
"It should never have been allowed to happen," said Piper, a former WBO Intercontinental light heavyweight champion.
"The experience of the promoters and the officials in that post fight press conference should have realised what was going on.
"Especially when Dereck Chisora said 'I'm coming over to see you, say it to my face.'
"The promoters were loving it at the time. They were relishing in the publicity that it was bringing.
"But they should have realised at that time it had gone far enough.
"There was staff there that could have stood in and stopped it but they let it happen."
The controversy following the ugly scenes in Germany will overshadow the build-up to Cleverly's defence of his WBO title at Cardiff's Motorpoint Arena on Saturday.
Piper believes his fellow Welshman Cleverly can overcome the challenge of Tommy Karpency, who has 21 wins from 24 fights, including 14 knockouts.
"[He has] tremendous stature, very good physique and will come to fight," said Piper of the American.
"He's not in Nathan Cleverly's class if you look closely at the record and Nathan should have no trouble in defeating Karpency.
"It should be a really good fight and something we can be proud of in British boxing."