Vitali Klitschko wants rematch with Dereck Chisora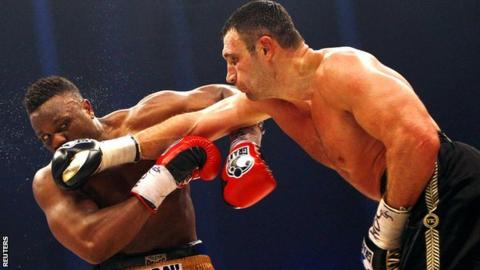 Vitali Klitschko has told a German newspaper he would like to fight Dereck Chisora again to "punish" him for his behaviour.
Chisora slapped Klitschko at the weigh-in and spat water at Klitschko's brother Wladimir before their WBC heavyweight title fight on Saturday.
After the bout, Chisora was involved in a brawl with David Haye at a news conference and shouted threats.
But Klitschko's manager, Bernd Boente, has ruled out any rematch.
German-based Ukrainian Klitschko told Die Welt: "In spirit, I have no need for revenge but my ego tells me this man deserves real punishment.
"I want to knock him out in the ring."
But Boente told German news agency SID: "A rematch is absolutely inconceivable and won't happen.
"Of course, Vitali has been affected emotionally but a fight is not up for discussion and we will not offer Chisora a further platform."
Zimbabwean-born Chisora faces a British Boxing Board of Control hearing on 14 March when he could face a lifetime ban for his behaviour, which included threats to shoot and burn fellow fighter Haye.
Both Chisora, 28, and Haye, 31, are under investigation by the German legal authorities.
Klitschko faces an eight-week lay-off following a shoulder injury sustained in the 12-round fight.