BBC Sport - Carl Frampton says world title win over Leo Santa Cruz 'creates a bit of legacy'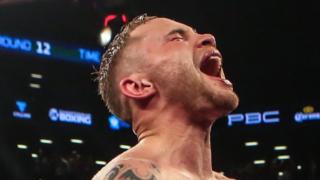 Frampton says New York win 'creates legacy'
Carl Frampton says becoming the first Northern Irish boxer to earn two-weight world champion status with his WBA featherweight title victory over Leo Santa Cruz is a "huge statement".
Frampton, 29, won on points in New York, being declared the winner by two judges with the third seeing the contest as a draw.
"This puts me close to being a top-10 pound-for-pound fighter and, while I don't want to sound big-headed, close to being a superstar in the boxing world," Frampton told BBC Sport Northern Ireland's Thomas Kane.
"I've made a bit of history and I feel like I've created a bit of legacy too."