BBC Sport - Rio 2016: Belcher and Hannah on last minute canoeing call-up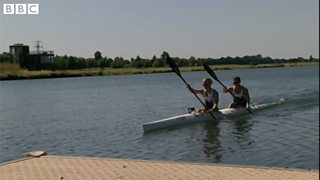 GB canoe duo delighted by Rio call-up
Lani Belcher and Angela Hannah say their late call-up into Team GB's sprint canoeing squad for Rio 2016 is "like a dream".
Belcher and Hannah will compete at the Rio Olympics after quota places were changed when 11 Romanian and five Belarusian athletes tested positive for banned substances.
"It was pretty difficult not hearing until the last few days, when it could have been a no", said Zimbabwe-born Hannah.
"It's such a relief to finally find out" said Belcher, who failed to qualify for London 2012. "I can't wait to get out there, it's been a dream since I was little."
Top videos