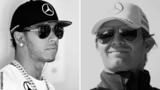 Who deserves to win the world title?
Read full article on Lewis Hamilton v Nico Rosberg: Who deserves the world title?
On one level, the much-criticised decision to award double points at the final Formula 1 grand prix of the season has worked, in that the championship finale this weekend is much more open than it would otherwise have been.
Lewis Hamilton has a 17-point advantage over Mercedes team-mate Nico Rosberg heading into the Abu Dhabi Grand Prix.