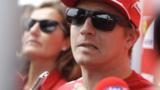 Can Raikkonen save his F1 career?
Read full article on Has Kimi Raikkonen's Ferrari future already been decided?
Ferrari driver Kimi Raikkonen is under increasing pressure as he heads to Silverstone for this weekend's British Grand Prix.
The race tracks of Britain are where 15 years ago the Finn cut his motor racing teeth and earned his chance in Formula 1. Now, he comes to the country needing to make an impression for a very different reason - his job is on the line.