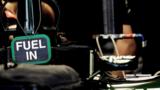 'F1 very different with changes'
Read full article on F1 rule changes: What do they mean for the future of the sport?
The raft of potential changes to the Formula 1 rules announced on Friday amounts to a recognition that something needed to be done to answer the ever-louder questions about the health of the sport.
There have been grumblings about whether F1 was providing enough of a spectacle for some time, but they have grown in momentum in recent weeks.