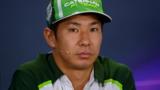 Is Kobayashi-Caterham trust broken?
Read full article on Kamui Kobayashi's Caterham concerns hint at breakdown of trust
The remarks Kamui Kobayashi made on his 'private' Facebook account about his repaired suspension arm are startling, to say the least.
It is very rare to hear a grand prix driver talk in terms of being "seriously troubled" by the safety of his car, whatever the circumstances, and his comments provide a revealing insight into Kobayashi's state of mind over the Russian race weekend.