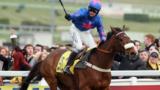 Surprises in store at Haydock?
Read full article on Can Cue Card and Silviniaco Conti recapture former glories?
When it comes to surprises, probably two of the biggest of the jumps season so far surround the defeats of Grade 1 chasers Silviniaco Conti and Cue Card.
With sparkling entries in the formbook and consequentially big followings, the pair were expected if not to win then to, as they say, 'go close' as their campaigns left the starting gate in recent weeks.