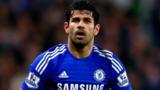 Is Costa becoming a divisive figure?
Read full article on Chelsea v Liverpool: Rivals serve up a classic at Stamford Bridge
Chelsea and Liverpool served up a Capital One Cup classic at Stamford Bridge - with every ingredient in the mix to keep a packed house on the edge of their seats for 120 minutes.
The plot had an arch-villain in Chelsea's short-fused striker Diego Costa, two managers who were once master and apprentice in Jose Mourinho and Liverpool's Brendan Rodgers, helped along by a decade of antipathy and rivalry between the two clubs across the whole range of domestic and European competition.