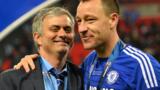 Expect an era of Chelsea domination?
Read full article on Jose Mourinho's Chelsea challenge: can they dominate?
When Jose Mourinho returned to Stamford Bridge for a second spell as Chelsea manager in June 2013, owner Roman Abramovich turned to him with one mission in mind.
And after Chelsea clinched the title following a season of Premier League domination - Mourinho's third such triumph at the club - it meant phase one had been accomplished.