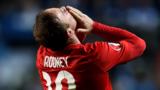 Is Rooney world class or a worry?
Read full article on Wayne Rooney: Is England striker world class or a worry?
Mark in Durham, on 6-0-6 on BBC Radio 5 live after England's 1-0 win over Estonia:
"Wayne Rooney is not worth his place in the starting line-up. People talk about him in the same breath as someone like Cristiano Ronaldo, but that miss tonight in the 93rd minute could have cost us a goal that could cost us qualification. Rooney's confidence is shot. He's trying to be the best man around, but he's playing the worst of anybody. If Roy Hodgson's picking a team of players in form then Wayne Rooney should not be in the team. He scored the winning goal, but that's all he's done in two games."