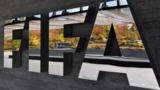 Will Fifa perform a World Cup report u-turn?
Read full article on World Cup corruption: Could Fifa be set to perform report u-turn?
Friday's vote by Fifa executives on whether to release Michael Garcia's World Cup corruption inquiry report could be a closer run poll than first expected.
Sources close to Fifa's leadership have told BBC Sport many executives not involved in the decision to award World Cups to Russia and Qatar feel increasingly tainted by association with the report and could back the release of a redacted version of Garcia's findings.