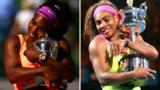 Can Serena Slam become Grand Slam?
Read full article on Wimbledon 2015: Serena Williams and Jordan Spieth's similar goals
Serena Williams warmed up for Wimbledon on Jack Nicklaus' grass courts, and watched on TV as the American golfer Jordan Spieth won the US Open to complete the first half of the Grand Slam.
Williams has already done the same, and will be three-quarters of the way there if she wins Wimbledon for a sixth time on 11 July.