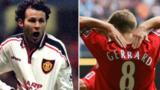 What makes the perfect goal?
Read full article on Gerrard? Van Basten? Giggs? What makes the perfect goal?
You will be able to vote for your favourite all-time goal from Match of the Day's goal of the season competition next Saturday - FA Cup Final day. The shortlist of five goals has been chosen from a panel of BBC football experts and will be revealed on Sunday's Match of the Day.
We've all got a favourite. We've all wasted hours day-dreaming about one. We might have even attempted it ourselves. And yet can any of us agree?