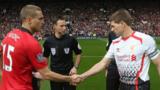 Man Utd v Liverpool: Best of enemies
Read full article on Man Utd v Liverpool: A strange kind of sporting love affair?
It is a supposedly toxic rivalry fired by both history and modern menace: ship canals and industrial struggle; title battles or European charges; managers trading insults and players refusing to shake hands; loathsome chants about death, songs ridiculing tragedy.
All that and more will be raked over before Manchester United and Liverpool meet once again on Sunday afternoon.