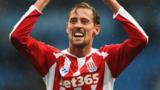 The big man with a nice reputation
Read full article on Peter Crouch: The Premier League millionaire everybody likes?
Imagine a player with more Premier League assists than Cristiano Ronaldo or Paul Scholes, with more Premier League goals than Fernando Torres or Dennis Bergkamp.
Imagine if he had more goals for England than Kevin Keegan, Steven Gerrard or David Beckham, with a goals-per-minute ratio significantly superior to Michael Owen and Gary Lineker and twice as good as Alan Shearer.