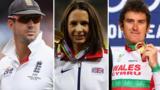 The alternative 2014 sport awards
Read full article on The alternative 2014 sport awards: Heroes, villains, failures & spats
Memorable names, breakthrough stars, sporting soap operas, strangest moments and spats not involving Kevin Pietersen - chief sports writer Tom Fordyce hands out his alternative 2014 sports awards.
Greatest collective failure
One of the early highlights of the Commonwealth Games: spotting the Sri Lankan cycling team out on a quick training ride - along the M74 motorway.
Humiliation on a greater scale came with Brazil's 7-1 demolition by Germany in the semi-final of their home World Cup. It was 0-5 before half an hour had been played; David Luiz and his errant fellow defenders should be grateful away goals don't always count double.