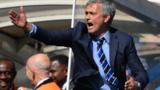 How will Mourinho handle 'tricky' third season?
Read full article on Jose Mourinho: Can Chelsea boss build a dynasty after winning title?
Ordinarily a manager should be allowed to bask a little after winning the Premier League. Since Jose Mourinho is neither ordinary nor liable to lie back on his laurels, the focus shifts to his future even as the title celebrations go on.
For all the successes of this past season, the one ahead might yet be the defining period in Mourinho's second spell at Chelsea. Never has he stayed at a club for more than three full seasons. Never before has the third year been quite as successful as the ones that preceded it.