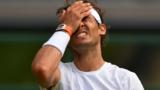 Nadal: The decline of a great?
Read full article on Wimbledon 2015: Why Rafael Nadal's 'shock' exit is no shock
The great shock of Rafael Nadal's shock exit from Wimbledon at the hands of previously anonymous qualifier Dustin Brown was that in some ways it was no shock at all.
Nadal is a 14-time Grand Slam champion. He triumphed in the greatest Wimbledon final of all time. He has a forehand that is less a groundstroke than a superpower.