Ashes 2013-14: England in a mess after more batting woe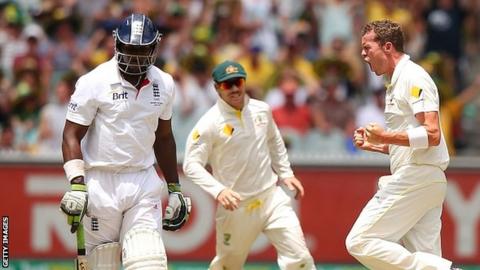 Today ranks as one of England's most disappointing days of this most disappointing series.
At the start, there was so much optimism that England could work themselves into a position to win the match.
But the momentum changed when the last Australian pair added 40 runs to take their score beyond 200.
At that point England still had a lead of 51, which their openers extended to 116 before once again the wheels came off in spectacular fashion.
To lose 10 wickets for 114 from there seems inexplicable, but sadly it is very easy to explain - it was just really, really poor batting.
The shot selection was awful and there was a total lack of discipline from some of England's batsmen.
I was particularly dismayed by the way the middle order approached Nathan Lyon. It appeared as though they were so reluctant to face Mitchell Johnson at the other end so they just set out to attack the off-spinner and the tactic backfired horribly.
And once again, the lower order just caved in, rather than just holding up an end and allowing Kevin Pietersen to steer England to a more imposing total.
England's problems start at the top of the order, where Michael Carberry is struggling to convince as a Test opener after a torturous innings of 12 from 81 balls.
He always looks calm and unruffled but he cannot keep leaving the ball so often. By refusing to rotate the strike, he is just putting pressure on himself and the team.
Carberry hit just five singles in his entire innings. If he had just increased that to 25 or 30, it would not only have added runs to the score, but also made the bowlers think.
Just by looking busy and working the ball into gaps, you can keep the initiative, but Carberry was negative from the off and his innings got nowhere.
Ian Bell's first-ball chip to mid-off was a really low moment. Everyone who plays club cricket knows that you have a look at your first ball. You go in and assess the speed of the bowling, the light and how the pitch is playing before you start to play your shots. So what Bell was thinking in attempting a lofted drive at Lyon I will never know.
Pietersen played superbly well. We have called on Kevin to play responsibly - that is the key word - and he should feel with some justification very let down by his team-mates.
Knowing that he was the senior player, he accepted the challenge of keeping out Johnson and left his partners to face Lyon, who wasn't spinning it much at all.
But they gave him no support whatsoever and he was left with no option in the end but to try to have a big hit, which he did when he holed out to long-off for 49.
It would take an absolute miracle for England to win the match from here.
The momentum is firmly with Australia and in the brief period they batted on Saturday evening, they looked very confident about the task ahead of them.
In all probability England will suffer a really crushing defeat and it will hurt even more knowing that they had given themselves such a decent chance of winning the game.
A fourth defeat would put yet another dent in what is left of England's confidence and make the possibility of a whitewash even greater.