Worcestershire: Kevin Sharp confirmed in new coaching role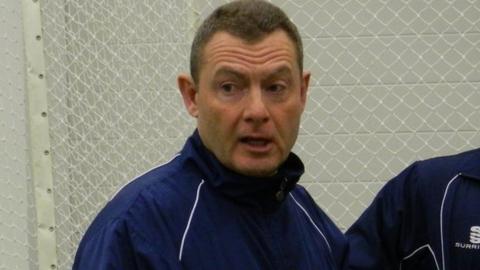 Worcestershire have confirmed former Yorkshire batsman Kevin Sharp as their batting and second XI coach as the county restructure their set-up after the recent death of Damian D'Oliveira.
Ex-Shropshire coach Sharp, 55, has been helping at New Road since April, but now officially takes on the dual role.
Leeds-born Sharp will also help coach the club's academy players.
Matt Mason will combine his job as bowling coach with being director of cricket Steve Rhodes' assistant.
Sharp scored 8,426 first-class runs in 195 matches in his 15 seasons at Yorkshire and also had a fruitful time as the Tykes first team and batting coach, helping to bring through future England players Joe Root, Jonny Bairstow and Gary Ballance.
"I'm delighted to be taking on this role and it is a great pleasure to be back at this level again," Sharp said.
"I've missed it the last couple of years and it is a bit special."
Sharp will work alongside Rhodes, Mason and new academy coach Elliot Wilson in bringing through the young players at New Road.
"The academy role has become far more demanding and in order to continue to develop our crop of emerging young cricketers, we've gone from a three-man coaching team to a four-man one," Rhodes said.
"I have the two people that I wanted to work with me and Matt, to support all the team and players across all age groups."
D'Oliveira passed away in June aged 53 after a life-long association with the club as a player and then academy director.