Moeen Ali: England all-rounder unaffected by crowd boos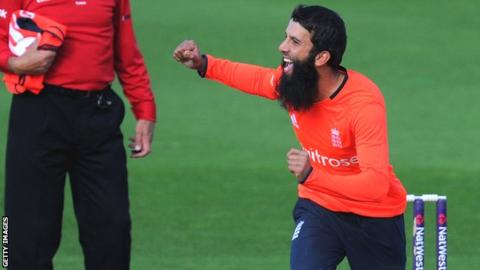 Moeen Ali has insisted he is not bothered at being booed by Indian fans while playing for England at Edgbaston.
The Birmingham-born Worcestershire batsman was booed in Sunday's T20 international on his boyhood home ground - just as he, captain Alastair Cook and bowler James Anderson were in Tuesday's one-day international.
"I wasn't too fussed," said the 27-year-old. "It didn't affect me one bit.
"I kind of expected it a bit. It is just one of those things."
On Tuesday, Professional Cricketers' Association boss Angus Porter apologised after saying Moeen should view the abuse he faced at Edgbaston "as a positive".
Porter initially said "you'd rather be booed than ignored", but his comments were met with criticism.
Moeen Ali's England record
286 runs (average 31.77, one century) and 22 wickets (average 28.09, one five-wicket haul) in seven Tests
185 runs (average 37.00, two half centuries) and five wickets (average 23.00) in five one-day internationals
57 runs (average 8.14) and one wicket (average 72.00) in seven T20 internationals
Keen Liverpool fan Moeen is used to the football-style atmosphere now attracted to international one-day cricket matches in the modern era.
And, back in the more sedate surroundings of Worcester for a County Championship game against Surrey, he preferred to play the incident down.
"When a small group starts booing you, everyone just jumps on the bandwagon a bit and it just built up from there," he added.
"Hopefully, in the future, it won't be as bad, it will slowly die down and you see the same fans supporting England.
"It would have been nice if they had been cheering rather than booing us but it did not bother me one bit. I just tried to do the best I could for the team and, at the end of the day, we won. It is a better feeling winning the game than being booed.
"It is one of those things. I don't want to say too much about it. I just want to get over it and keep looking forward to playing for England again."
Last week's two international appearances were the first in England colours for the Moseley-educated former Warwickshire player at Edgbaston.
He rose to the occasion with a stunning knock of 67 in the one-day defeat, before keeping his head well in the field in Sunday's last-ball victory.
He was out for 54 against Surrey on Tuesday, showing good form on his return to Worcestershire duty for the first time in nine weeks.