Jersey national team is inspiration for league clubs, says Neil MacRae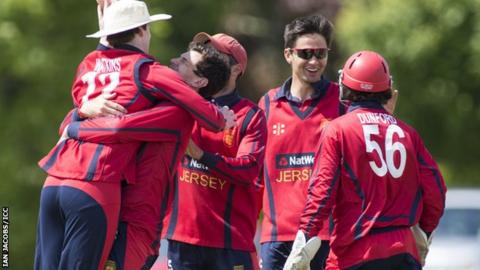 While Jersey's national cricket team is thriving, clubs in the island's domestic league are struggling to consistently put together full teams for competitive matches.
Jersey's national side gained promotion to ICC World League Four at the end of May, a success that sees them playing at the highest level in their history.
But, in the league, clubs such as Walkovers SCF and Old Victorians had to forfeit games because of a lack of players last season.
Some put it down to more pressure on players to spend time with their families rather than out in the middle, while others argue the Jersey Cricket Board is overly focussed on ICC tournaments.
Jersey's head coach Neil MacRae, though, thinks the success of the national team could be crucial towards increasing involvement in the domestic league.
"I think certainly the national team success is an inspiration, particularly to the youngsters," he told BBC Radio Jersey.
"Last year the performances of Jonty Jenner were a massive factor in youngsters becoming aware of what's possible on the island."
Social factors
Earlier this year Jersey captain Peter Gough said he was saddened by the lack of fixtures in the island's league, with there being just four clubs left in the top flight after mergers between Farmers and Caesareans, St Ouen and Springfield and Walkovers and Sporting Club Francais alongside the Old Victorians.
"[The league] is a chance for potential Jersey players to showcase their skills and push for selection for the Jersey squad," added MacRae.
"Jersey Cricket Board is certainly well aware of the issues. I think social factors have changed over the last 15 to 20 years.
"It's not just something that's happening in Jersey, it's happening across the board in club cricket in the UK. It's an issue for the clubs, board and all the players to work on together.
"It's really important that we get games of cricket on a Saturday and that players are enjoying playing club cricket."
Cricket in crisis?
Ward Jenner, chairman of the Jersey Cricket Board and father of teenage batsman Jonty, thinks the distractions of daily life are responsible for a lack of involvement in the domestic league.
"Cricket is a time-consuming game and it means giving up a long afternoon on a Saturday or a Sunday," he said.
"Most people have very busy and time consuming jobs, so when they do get their free time at the weekend, they do take it."
Familiarity 'breeds contempt'
Clubs from Jersey used to take on their counterparts from Guernsey in a Channel Islands league, but it was scrapped in 2012 because of concerns about travel costs and mismatches between some teams.
"We could, perhaps, try to look at reinstating some sort of a Channel Island league," said Jenner.
"I think it provides you with different environments, different pitches, and obviously different people. But then of course you've got the problem of travel between the islands, weather disruptions and the financial side of it.
"Because of the falling numbers there's a smaller number of clubs and familiarity, if you like, breeds contempt."