Timm van der Gugten: Glamorgan paceman targets first Championship win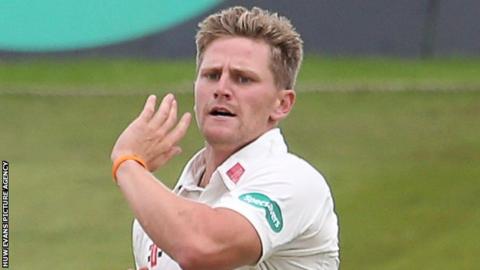 Glamorgan fast bowler Timm van der Gugten hopes to be involved in a Championship win for the first time.
The 25-year-old has missed Glamorgan's two victories in Division Two this season.
He was rested against Derbyshire and was on Netherlands duty when Glamorgan beat Worcestershire.
"I haven't been involved in a four-day win yet, every game I'm rested we seem to win, so hopefully I can be involved in one" he told BBC Wales Sport.
Glamorgan have four Championship matches remaining, starting at Northampton on Wednesday, 31 August.
Van der Gugten, who joined on a three-year contract in February 2016, tops Glamorgan's bowling averages with 37 wickets.
He claimed a fourth five-wicket haul of the season in the narrow defeat against Sussex, with Graham Wagg having provided the only other five-wicket collection of the season.
The paceman, who is under contract with Glamorgan until 2018, is playing regular first-class cricket for the first time after occasional appearances in his native Australia.
"It's been hard, if I'm honest, it's something completely foreign to me but I get to play a lot which is a bonus and hopefully I can get used to it next year," he said.
Van der Gugten was hailed as an "X-factor" player by Glamorgan captain Jacques Rudolph, and singled out for praise by Sussex coach Mark Davies after his most recent display.
But he believes he can do better in future, especially with fewer swaps between blocks of four-day and limited-overs cricket in 2017.
"It's been a bit of an up-and-down season, I've bowled well in patches, it's always good to get wickets but hopefully we can get a few more wins before the end of the season," he added.
"It's a bonus to know I can get through the schedule but hopefully it's a bit quieter next season."