BBC Sport - Henry Blofeld: My commentary caused car crashes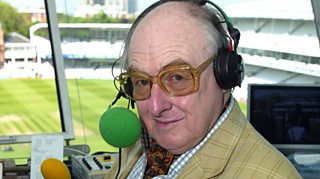 My commentary caused car crashes - Blofeld
Henry Blofeld has announced he will retire from BBC Test Match Special after 45 years in the commentary box.
He recalled the "great moment" Bob Willis removed Ray Bright's middle stump leading England to an incredible Ashes win in 1981: "I'm told I caused several car crashes on roads in England as people were celebrating...I hope that's not true."
He added that many years later he humorously told Ray Bright who "took the news with rather less enthusiasm".